If you're an Iowan who enjoyed betting on the Super Bowl in 2020, you only got a taste of how good it can be. Wagering on the NFL's penultimate contest of the 2020-21 season will be tremendously superior this year.
While some things are unchanged compared to Super Bowl LIV — for example, the Kansas City Chiefs are AFC champions, again — there are three significant reasons 2021's iteration of the biggest single betting day of the year in the US will be more fantastic.
The first reason is all about Iowa's long-awaited sunset.
1. Register online to bet on the Super Bowl
Up until Jan. 1, new bettors in Iowa were handcuffed by the dreaded in-person registration requirement. This meant new bettors in Iowa could only wager on online sportsbooks after traveling to the casino partners to complete their account registrations.
Thus, the ability to shop for the best bonuses, odds and props was limited. Thankfully, the mandate expired, so Iowans can now sign up online for all licensed sportsbooks apps completely over the Internet. The same goes for residents who want to bet in Missouri and other surrounding states, although they must be in Iowa to place sports bets.
This year, if you don't like the "price" one sportsbook is giving you on that Patrick Mahomes to throw the game's first touchdown prop bet, you don't have to take it. You can quickly sign up for all the Iowa sportsbooks to see if another sports betting app has a line more to your liking.
Sportsbooks are aware of this and want to take advantage of it. Thus, it's going to be a "buyer's market" in 2021.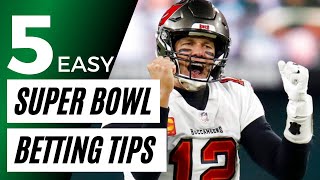 2. Bucs and Chiefs not the only competitors in the Super Bowl
Honestly, last year's game was cool for Iowans for a couple of reasons. First off, Iowans likely appreciated that a "local" team not only qualified for but won the game. It was especially great for Hawkeye football fans because of the role of tight end George Kittle, even though he ended up on the losing side.
This year's teams don't boast quite the University of Iowa star power, although five players who played at Iowa or Iowa State Cyclones are on the AFC champions and NFC champions' rosters:
Kansas City guard Kelechi Osemele, a former Cyclone
Tampa Bay Buccaneers linebacker Anthony Nelson, a former Hawkeye
Tampa Bay offensive tackle Tristan Wirfs, a former Hawkeye
Kansas City linebacker Anthony Hitchens, a former Hawkeye
Kansas City linebacker Ben Niemann, a former Hawkeye
Just like only either Hitchens' or Nelson's team can win this game, only one IA sportsbook is going to claim the title of grabbing the biggest share of the handle for this game.
Toward that end, IA sportsbooks have already started to push promos, which you've undoubtedly already seen on television in Iowa. Take DraftKings and FanDuel, for instance.
DraftKings: Double your money if there's a TD
Claim Your $1,400 Bonus at DraftKings Sportsbook

Up to $1,400 BONUS
New User Bonus. T&Cs Apply
DraftKings Promo: Bet $5 Get $200
PLUS Up to $150 in No Sweat Bets

PLUS $50 Bonus Bet On Deposit

PLUS Up to $1,000 Deposit Bonus
Gambling Problem? Call 1-800-GAMBLER

To Claim: Click Play Now
First-time depositors to DraftKings Sportsbook can do what the title suggests if either the Buccaneers or Chiefs score at least one touchdown in Super Bowl LV. You must make a deposit of at least $5 and activate the promo before 5:30 p.m. CST on Sunday, Feb. 7. The max bet is $50.
FanDuel: 55/1 odds boost
New Players get up to $200 in Bonus Bets at FanDuel Sportsbook
Up to $200 in Bonus Bets
Available on Desktop, Android & iOS

To Claim: Click Play Now

New customers who sign up on the app can place a max bet of $5 on either Kansas City or Tampa on the moneyline and get 55/1 odds. Again, the deadline is 5:30 p.m. CST on Super Bowl Sunday. This offer takes the place of the standard $1,000 bonus first bet offer for new users on FanDuel.
All IA sports betting apps are fighting over you. When that happens, you come out as the clear winner. The last reason this will be a better season for bettors is because of the sheer volume of options.
PointsBet: Big game 'GOAT' insurance
Get up to $1,000 in Second Chance Bets at Pointsbet Sportsbook
1
Get Up to $1,000

In Second Chance Bets
Get up to $1,000 in Second Chance Bets
10 Bonus Bets up to $100 each
To Claim: Click Play Now

PointsBet is offering all betting customers "Big Game GOAT Insurance" on the NFL Championship. PointsBet will refund any losing moneyline wager with up to $50 in bonus bets, so long as your selected team loses by a margin of 43 points or fewer.
3. So. Many. Betting apps.
Last year, you could count the number of online sportsbooks accepting wagers in IA on your hands. Additionally, some of the most popular brands in the country, like BetMGM and BetRivers, hadn't yet made their entry into the market.
In 2021, you'll need your toes to help out, as the total is up to 10 online sportsbook options. Also, the menu is of higher quality as well, with not only BetMGM and BetRivers live in the state, but pending launches of other brands:
888Sport
Bally's
Vigtory
WynnBet
These three reasons are synergistic. Because bettors can register remotely now, books are more likely to spend more in the market. That means better promos. It also means operators are more apt to do all they can to get live in IA before Super Bowl Sunday so they can get cut into the action. That ramps the competition up a notch, which means even more bonuses, and so on.
IA bettors, regardless of who wins the game on the field in Tampa, this is your year. Good luck with all your wagers, and be sure to bet responsibly.