There's been no shortage of excitement around horseracing as of late, and that buzz looks to carry over in the 2022 Preakness Stakes.
Rich Strike, who just won the Kentucky Derby with 80-1 odds, will not compete at Preakness this year, meaning we won't have a Triple Crown winner. But that doesn't mean Saturday's race at the Pimlico Race Track in Baltimore isn't worth watching.
Epicenter, who was the favorite to win the Kentucky Derby before Rich Strike's upset for the ages, is again the favorite for this race, boasting 6-5 odds to win as of Wednesday afternoon. He's trained by Steve Asmussen and will be jockeyed by Joel Rosario.
Interested in betting on the Saturday's Preakness Stakes? Here's what Iowans need to know about the latest odds, how to bet, and more.
How to bet on the 2022 Preakness Stakes in Iowa
Just like any major horseracing event, you can always bet in-person at locations like the Prairie Meadows Casino and Racetrack in Altoona. But if you'd like to place a bet online, simulcast and online horse race betting operator TVG has you covered.
TVG offered a $200 bonus bet ahead of the Kentucky Derby. It looks like they're ready for the Preakness Stakes, too.
Get a No Sweat Win Bet up to $200 at FanDuel Racing
$200 NO SWEAT WIN BET
Bet on Horse Racing
Up to $200 Back if Your First Bet Doesn't Win
Get Boosted Odds & the Best Promotions

Easy Deposits, Fast Withdrawals
To Claim: Click Play Now

Make a deposit and place your first win-type bet up to $200 on a single horse in any race at any track and get it back as wagering credit within 24 hours if you don't win. Only the win portion of a win/place, win/show or win/place/show wager will count toward the promotion.
Plus, you'll get automatically opted into the Money Back Special Promotion when you sign up with TVG — no extra steps required! Get up to $10 back as wagering credit on select races if your horse finishes in 2nd or 3rd. Minimum run qualifications apply.
Be sure to use the promo code RISKFREE.
OTB sites in Iowa
Several casinos in Iowa are licensed to allow pari-mutuel horse betting. They are:
The three Wild Rose casinos have an off-track betting agreement through the Iowa Greyhound Association. Greyhound racing ended Sunday in Iowa, however and the Wild Rose OTB arrangement is set to end on June 30.
The casino group is exploring different options. Regardless, the current agreement will still get Wild Rose customers through the last two gems of this year's Triple Crown.
How to watch the 2022 Preakness Stakes
Coverage of the 2022 Preakness Stakes begins Saturday at 1 p.m. on CNBC before switching to NBC at 3 p.m. Post time for the Preakness Stakes is around 5:45 p.m.
If you're looking to stream coverage and the race itself, the NBC Sports app and Peacock have you covered.
2022 Preakness Stakes betting odds, post position
Simplification:6-1
Creative Minister: 10-1
Fenwick: 50-1
Secret Oath: 9-2
Early Voting: 7-2
Happy Jack: 30-1
Armagnac: 12-1
Epicenter: 6-5
Skippylongstocking: 20-1
What to know about Epicenter, the favorite
Well, for starters, Epicenter nearly won the Kentucky Derby. He finished second to Rich Strike by 3/4 length.
But Asmussen knows a thing or two about winning the Preakness Stakes. After all, he won in 2007 with Curlin and 2009 with Rachel Alexandra. Asmussen leads all North American trainers in all-time wins, and he described the Preakness Stakes draw as "ideal."
"It's a nine-horse field, plenty of run-up to the first turn," he said. "Several fresh horses and us coming back in two weeks, I think it's absolutely ideal. You could say we're half as nervous as the draw for the Derby, when you go from 20 runners to nine. I think that makes it that much more beneficial to everybody as far as post-position draw goes."
Before finishing second at the Kentucky Derby, Epicenter won the Louisiana Derby (March 26), Risen Star Stakes (Feb 19), Gun Runner Stakes (Dec. 25, 2021) and Maiden Special Weight (Nov. 13, 2021). He placed second in the Lecomte Stakes on Jan. 22, as well.
Why is Rich Strike not running in the Preakness Stakes?
Simply put, Rich Strike's owner, Rick Dawson, and trainer Eric Reed felt as though the short turnaround wouldn't give the horse enough time to rest.
"Five weeks between races has been our race cycle," Dawson told the Journal Record. "What's best for our horse is best for us. We don't want to mess it up."
Instead, Dawson and Reed have their sites set on the Belmont Stakes on June 11.
What to know about some of the other horses competing in the Preakness Stakes
Simplification (6-1)
Owned by Tami Bobo and trained by Antonio Sano, Simplification enters the Preakness Stakes off a fourth-place finish in the Kentucky Derby. He finished third in the Florida Derby on April 4 and first in the Fountain of Youth on March 5.
Secret Oath (9-1)
He didn't race in the Kentucky Derby, but Secret Oath has won five of his last seven races, most recently taking first in the Kentucky Oaks on May 6. He's owned by Briland Farm and trained by D. Wayne Lukas.
Early Voting (7-2)
Early Voting won both the Withers on Feb. 5 and the MSW on Dec. 18, 2021. Recently, he placed second in the Wood Memorial on April 9. Early Voting is owned by Klaravich Stables Inc. and trained by Chad C. Brown.
Who won the Preakness Stakes in 2021?
A horse named Rombauer (trained by Michael W. McCarthy) won the event in 2022, toppling Asmussen's Midnight Bourbon and Bob Baffert's Medina Sprint. Rombauer's win was an upset; the horses entered the race with 12-1 odds the morning of the race.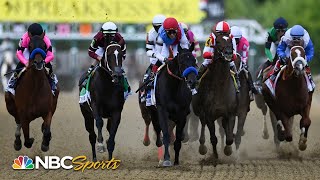 It was quite the race, with Rombauer passing Midnight Bourbon and Medina Sprint in the final leg to win decisively.