So, William Hill customers, have you seen the Caesars Sportsbook gold goblet with the green background yet?
If you haven't visited Iowa's leading sportsbook since the weekend, you'll see some changes with an app update. Caesars is giving customers a new look while lining them up with access to Caesars Rewards.
Get Up to $1,000 at Caesars Sportsbook
$1,000 first bet
On Caesars
Up to $1,000 Back as a Bonus Bet if Your Bet Loses
Stream NFL Games In-App for Free

Use Promo Code: LEGAL1000

PlayIA can help you with the transition.
FAQ about Caesars Sportsbook in Iowa
So, Caesars Sportsbook replaced William Hill Sportsbook in Iowa. When did that happen?
The new sportsbook went live Monday in several states, including Iowa. The others are Colorado, Indiana, Illinois, Michigan, New Jersey, Tennessee, Virginia, and West Virginia. Once the regulatory process is done, Arizona, Maryland and Louisiana will join the list.
Do I have to download the new Caesars app?
No. Existing William Hill customers should have received an update for the Caesars Sportsbook app starting Monday. There's no need to download a new app or go through a fresh registration process.
Do I have to set up a new login?
No, your William Hill login should transfer over as part of the update.
Will it be an entirely new process to place a bet or explore promos?
No, the look of the sportsbook page is very similar to the William Hill you're used to. And the betting lines will be the same as well.
How will I know I'm using the current app?
Caesars Sportsbook uses a gold goblet with a rich green background as its app logo. You'll see it a lot with the marketing campaign featuring JB Smoove and Patton Oswalt.
Can I keep William Hill rewards points?
Yes, but put them to use soon. They'll expire in early 2022.
What about earning Caesars Reward points?
Yes, the company offers "Tier Credits" and "Reward Credits" with each bet — win or lose. Customers should find it easy to redeem the rewards both online or in person. Rewards perks include free play opportunities, dining, getaways and access to special sports and entertainment experiences.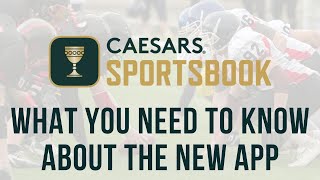 Retail betting options for Caesars Rewards in Iowa
Caesars has the most established network of casinos in Iowa, so customers who pick up the Caesars Sportsbook app could pile up Caesars Rewards points for their next visit to:
Eldorado Resorts merged with Caesars in early 2020, giving Caesars market access to the Isle casinos. Both Isle websites now feature the Caesars Sportsbook branding with JB Smoove.
Lakeside may not be under the Caesars umbrella for much longer. Affinity Gaming, which operates Lakeside Casino and DRF Sports. So, the plan is to replace the retail William Hill sportsbook in Osceola with Daily Racing Form.
Huge offer for new Caesars IA customers
The switch to Caesars Sportsbook includes a huge offer to Iowans who want to give the sportsbook a try. New app users will have the opportunity to place their first bet, up to $5,000, bonus.
Customers get a single bet with the special officer, but they don't have to bet the full $5,000. The winnings come as bonus bet credit. Keep in mind, it isn't a deposit match, a no-deposit bonus or a bonus bet on your deposit or registration.
Also, if you already had the William Hill account, you aren't eligible for the $5,000 mega-offer. But, chief marketing officer Sharon Otterman promises some great deals for loyal customers:
"In September, there'll be other what we think are just incredible offers that Caesars is going to offer Caesars Nation. So it's not that just that the $5,000 is ending and we go back to what we were doing in the past. There are so many more exciting offers that are about to come down in very different formats and mechanics as well."