March is Problem Gambling Awareness Month.
Statistics tell Eric Preuss gambling has "become a societal norm" in Iowa. The Iowa Gambling Treatment program manager said about "90% of adult Iowans have gambled at some point in their lifetime. Almost 50% participate in a gambling activity each month."
About 315,000 Iowans each year experience a symptom of a gambling problem, while about 19,000 would meet the criteria for a gambling disorder, according to his numbers. Unlike drugs or alcohol, a blood test can't help identify the addiction. Many of the behavioral concerns can overlap, however:
Withdrawal
Loss of control
A higher tolerance for the substance or wagering
Preoccupation
Continued use or gameplay despite negative consequences
But, Preuss points to some differences as well. He said:
"Legal consequences often go unrecognized as it relates to gambling. And, gambling itself is seen as 'the solution' to the gambling problems — (in other words,) 'I'm just a win from fixing all my problems.' And, there's no overdose potential with gambling."
When does gambling become a problem?
Preuss cited new research out of Canada that encourages public health officials to lower the guidelines for what would be considered "risk gambling." In order to avoid betting too often — or wagering more money than intended — Preuss said Iowans should avoid:
Gambling more than 1% of the household income
Gambling more than four days per month
Participating in more than two types of gambling
Gambling may be a problem if bettors are lying to themselves or others and if they're asking friends or family members for a financial bailout due to losses incurred by gambling.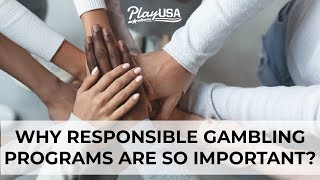 What is the best way to raise awareness with a loved one?
Preuss encourages loved ones to be understanding, empathetic and caring as they try to help someone faced with problem gambling.
"The individual experiencing a gambling problem often feels terrible about themselves. (They) feel ashamed and embarrassed, while those around them without the problem see the behaviors as irrational, senseless, and maybe even reckless."
Those feelings can lead the gambler to deny or hide their addiction. Bettors who face addiction don't want to lose the respect and admiration of the important people in their lives. The behavioral health expert said people experiencing a gambling problem "don't want to hear anger and frustration when found out, and don't want to feel more shame."
He added:
"Separate the behaviors from the person. They need your help and support. If you are not sure you are ready for the conversation, call 1-800-BETS-OFF. Know that help is available (for) yourself and the individual with a gambling problem. Treatment works and recovery is possible. Have hope."
How has sports betting impacted gambling addiction?
The Iowa Department of Public Health (IDPH) has baseline data from late 2018 to get a feel of sports wagering in Iowa prior to the legalization.
Iowa Gov. Kim Reynolds signed the bill legalizing sports betting on May 13, 2019. Sportsbooks were allowed to go live a few months later on Aug. 15, 2019. The IDPH's behavioral health division plans a follow-up study to learn how the legalization of sports wagering has changed gambling attitudes and behaviors.
According to Preuss:
"We continue to monitor calls coming into 1-800-BETS-OFF and those seeking treatment. We've seen a recent increase in the percentage of contacts that are related to sports wagering. This is a credit to the industry and the 1-800-BETS-OFF messaging that is required to be part of sportsbook apps. We are glad they are calling, and we are here to help 24/7/365. Not only for the individual experiencing the problems, but also for their friends, co-workers or loved ones who are witnessing the problem and don't know what to do next."
Industry wants betting awareness, too
As Preuss mentioned, the state's casino industry and its sportsbook partners work together to make help and information available. Administrator Brian Ohorilko, of the Iowa Racing and Gaming Commission (IRGC), said problem gambling controls are important to the IRGC:
"Specifically, facilities must include information about the gambling treatment program within all of their advertising material that goes out. There has to be signage within their casinos. There is the statewide self-exclusion program that the casinos participate in and they direct customers that may have tendencies for problem gambling to have access to that program."
The IRGC requires licensed sportsbooks to make voluntary limits available to customers. Bettors can ask their sportsbook to set daily, weekly or monthly deposit or loss limits.
Ohorilko said:
"Problem gambling awareness is important. It is important to the commissioner's office and it's also important to the industry. … Make no mistake, the industry (wants) people to to come to their facilities. But they want people — when they come — to act responsibly. It's important for everyone that participates in this industry. (They need) to do their part to make sure customers who are coming to their facilities are acting responsibly during their visit."
The IRGC makes the self-exclusion form available to anyone who wants to enroll in the program remotely. They'll need to sign the form in the presence of a notary public registered with the state of Iowa.
Other helpful resources include Gam-Anon, and GamTalk, a moderated online support forum. Iowa Department of Public Health chat can also help.
Sportsbooks offer problem gambling resources
Sportsbooks used Problem Gambling Awareness Month to launch programs to promote responsible sports wagering. FanDuel has partnered with the American Gaming Association through the AGA's "Have A Game Plan. Bet Responsibly" public service campaign. FanDuel described the partnership as a "multi-million-dollar commitment" by the company to have responsible gaming content live in May 2021.
FanDuel Group CEO Matt King said:
"We believe promoting responsible gaming behaviors is a core tenet of growing our business and the industry as a whole. We are not only going to commit substantial FanDuel resources to promote 'Have a Game Plan,' but we intend to build a consortium of partners throughout the sports and gaming business."
BetMGM works with the National Council on Problem Gambling in promoting Problem Gambling Awareness Month. The company said its employees will participate in a weekly educational series by EPIC Risk Management, an international harm-prevention consultant.
BetMGM's responsible gambling program manager Richard Taylor said:
"They'll hear from experts about the nature of problem gambling, the importance of research and policy, and the role they can play in preventing problem gambling. We're pleased to collaborate on this critical initiative."
If you or someone you know has a gambling problem, call 1-800-BETS-OFF or go to https://yourlifeiowa.org/gambling/ to learn about available services near you.