What is Moneyline Betting?
Iowa is no stranger to the sports betting industry. The Hawkeye State has been allowing legal wagers since August 2019. Several major sportsbooks are currently operating in the state, providing plenty of sports betting markets.
Sports betting can seem a bit overwhelming at first. To make things easy, we advise beginning with the simplest wager, the moneyline bet.
For all its simplicity, there are many aspects of the moneyline wager that bettors in Iowa should understand, and we're here to explain them.
What is a Moneyline Bet?
When betting on the moneyline, you are only wagering on which side will win. There's no need to consider a point spread, etc., because this wager is only on which team will emerge victoriously.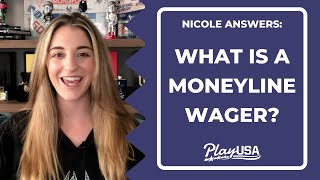 How do moneyline odds work?
Bookmakers predetermine the odds (or lines) for each side. They will "crunch the numbers" on all the significant factors in deciding which team is more likely to win a game. Even when two teams are evenly matched, the sportsbook will select one team as a "favorite" and the other as an "underdog."
Favorites have a better chance at winning the contest and have a minus sign accompanying their odds. Underdogs are the opposite and will have a plus sign. For example, a team with a -200 moneyline would be the favorite, while a team with a +200 moneyline would be the underdog.
To make things easier to understand, look at moneylines relative to the number 100, and then break it down from there. When it comes to favorites, the moneyline is the amount of money that bettors would need to risk to win $100. For underdogs, the moneyline is what the bettor stands to win by risking $100.
Do moneyline odds change?
Note that oddsmakers set an opening line, but odds can change between the time they are posted and when the game begins. The following factors can lead to betting lines being adjusting prior to the start of a game:
Injuries
Weather
Action from the betting public (and professional bettors)
Media stories (could impact whom the public bets on)
Keep in mind that the sportsbook's goal is to create a situation where a similar amount of betting action comes in on both sides. If there is too much liability on one side, you could see a line move to compensate for it.
How to Bet Moneylines
In regard to betting moneylines in Iowa, let's look at an example using NCAA football odds from FanDuel Sportsbook for the Hawkeyes' matchup with Nebraska:
| | Point Spread | Moneyline | Total |
| --- | --- | --- | --- |
| Nebraska Cornhuskers                              | +13.5 (-105) | +440 | O 53.5 (-110) |
| Iowa Hawkeyes    |  -13.5 (-115)        | -650       | U 53.5 (-110) |
There are three sets of numbers here, in the following order: the point spread, the moneyline and the total. For this example, we are unconcerned with the point spread of 13.5 points for each side and a total of 53.5, so let's focus on the middle section. On the moneyline, the Iowa Hawkeyes is a huge favorite at -650, while Nebraska is a sizable underdog at +440.
Once you have determined which side you're going to bet on, you must select the corresponding moneyline, which will move it to your bet slip. Then, enter an amount to risk to calculate the potential payout, and it will be clear how much you stand to win or lose, depending on the result of the wager.
To do the quick math, remember that moneylines are linked to 100. In this case, a bettor would need to risk $650 to win $100 on Iowa, while a wager of $100 on Nebraska could net $440 in profit.
NFL moneyline betting
Due to not having any major teams of its own and its proximity to several pro football cities, we know that Iowa is a house divided when it comes to NFL fandom. Let's take two of the teams that Iowans like to cheer for and create an example:
Minnesota Vikings +380
Kansas City Chiefs -500
The Kansas City Chiefs are huge favorites over Minnesota in this matchup, hence the -500 moneyline.
This example indicates that you would need to place a $500 NFL wager to profit $100. In more relatable terms for the casual bettor, you'd need to risk $50 to win $10.
Betting on the Vikings is a much riskier proposition, but one that could pay off in a big way. A $10 wager on Minnesota Vikings would net a $38 profit.
NBA moneyline betting
Pro basketball is another sport where allegiances are split among Iowa sports fans. But that won't stop folks from taking part in NBA moneyline betting in Iowa, so let's use another example:
Chicago Bulls +220
Brooklyn Nets -300
In this scenario, the underdog Chicago Bulls offer some value since a $50 wager can earn $110 in profit. On the other side, the Brooklyn Nets are more likely to win but require a much bigger risk of $150 to win $50.
Because odds are presented the same way for many different sports, this example works for leagues and sports, including NCAA basketball, NHL, MLB, tennis and UFC.
Three-way Moneyline Betting (Soccer and Golf)
As we can tell with the above examples, betting on the moneyline means having two choices. But there are instances when a third option — a tie (or draw) — is available. This situation is most common when wagering on soccer since draws are quite common, and we refer to this as the three-way moneyline.
Let's use an example from a Champions League matchup between Liverpool and Atalanta with odds from DraftKings Sportsbook:
Liverpool is the favorite here, which means we'd have to wager $16.70 to win $10 in profit. With Atalanta tabbed as the underdog, a $10 bet could garner a $41 payout.
The odds on a tie will vary from match to match, with the tie occasionally offering the heftiest payout of all. In this case, however, a victory for Atalanta paying higher than a draw suggests that oddsmakers feel a tie is more likely than a victory for the underdog.
There are instances in other sports, namely golf, where a draw could come into play. Many Iowa online sportsbooks offer head-to-head golf matchups, which is a contest between two players, and the odds are presented in the form of a three-way moneyline. Bettors can wager on either of the two golfers or that the two will put up the same score for a given round.
The difference in golf is that the option for a draw will almost always come with a much larger payout than picking one or the other since ties are far less common in these scenarios.
Depending on the site, there may be two-way moneyline markets that remove the tie from the equation altogether. Although, the odds are drastically different once the third option is removed.
Moneyline Betting Strategies
Regardless of which bet type you're planning to try, it helps to know how to go about placing wagers. There are several moneyline betting strategies to employ as well as some things to avoid when betting on which side will win a given game. Keep the following tips in mind:
1. Check line movement
To know where you're going, you've got to know where you've been. And when betting moneylines, it can be extremely valuable to be aware of how much the line has moved and in what direction.
Line movement can help you figure out whether you're making a square pick or a sharp pick. The latter is what we aim for since professional bettors are also known as sharps, and they have a history of betting against the public while being on the correct side of the final score.
2. Beware of heavy favorites
When betting moneylines, it's important to have an idea how big of a favorite you're willing to wager on. The bigger the favorite, the more you risk when placing the bet. And for teams that are favored heavily, the risk may not be worth the reward at a certain point. Don't take on too much liability by wagering on massive favorites on the moneyline.
3. Combine multiple moneylines
The above tip remains true when placing single bets, but there is a path to getting away with a moneyline betting strategy that involves taking heavy favorites. This involves combining multiple selections and creating a parlay.
This will boost odds and allow you to select some favorites on the moneyline if you so choose, without risking far more than you can win.
4. Do your research
It's important to be aware of anything that could impact the line on a game. For example, knowing where the game is being played is an important factor since the home-field advantage is a big deal in most sports.
It's also vital to know whether any key players are hurt or the weather conditions for an outside sport. Recent form is something to be aware of, as is any relevant history between the two teams, along with the recent and upcoming schedules of the respective clubs.
5. Avoid chasing losses
There will undoubtedly come a time when you lose a few bets in a row and things go cold. In these situations, it's important not to bet on tilt and start chasing losses with the hopes of making everything back at once. Even if a particular line presents value, whether a favorite or an underdog, don't wager more than you can handle.